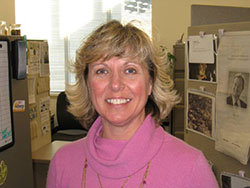 Ms. Morefield is the Program Manager for the Defense Environmental Restoration Program (DERP) in the Office of the Assistant Secretary of Defense (Energy, Installations, & Environment), Environment, Safety, and Occupational Health Directorate (OASD(EI&E)/ESOH. The DERP, which includes the Military Munitions Response Program, restores environmentally impacted properties and pursues cleanup activities at DoD active installations, Base Realignment and Closure locations, and Formerly Used Defense Sites. She develops policy and guidance, sets program performance goals to measure progress, and monitors the execution of the environmental restoration program by the DoD Components. The DoD DERP budget for Fiscal Year 2013 was $1.8 billion.

Ms. Morefield has participated in several special assignments. In 1997, she was detailed to Office of the Deputy Undersecretary of Defense (Environmental Security) to provide technical support on the Native American Lands Environmental Mitigation Project. From July to November 2005, she assisted the Military Liaison Officer in Senator Elizabeth Dole's office. Through out her career she has received numerous letters and certificates of appreciation for outstanding performance.

Her total DoD career spans 23 years. Prior to joining OASD(EI&E)/ESOH, she was the Range Sustainment and Technology Liaison in the Office of the Deputy Assistant Secretary of the Navy (Environment). Her responsibilities included policy formulation, program oversight related to range sustainment and environmental compliance issues. Her experience ranges from private consulting to Federal and State government positions both at the Headquarter and field level.

Upon graduation from high school, Ms. Morefield enlisted in the United States Army. After her enlistment, she attended the University of Central Florida in Orlando, Florida, where she graduated with a Bachelor of Science in Engineering (Environmental) degree. She is a Certified Hazardous Materials Manger.

Ms. Morefield was born and raised in Pittsburgh, PA. Even though she resides in the Alexandria area she is still a Pittsburgh Steelers fan. She enjoys all sports and still plays softball on a local intramural team.