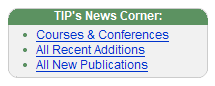 Welcome to TechDirect! Since the January 1 message, TechDirect gained 281 new subscribers for a total of 32,654. If you feel the service is valuable, please share TechDirect with your colleagues. Anyone interested in subscribing may do so on CLU-IN at http://clu-in.org . All previous issues of TechDirect are archived there. The TechDirect messages of the past can be searched by keyword or can be viewed as individual issues.

TechDirect's purpose is to identify new technical, policy and guidance resources related to the assessment and remediation of contaminated soil, sediments and ground water.

Mention of non-EPA documents or presentations does not constitute a U.S. EPA endorsement of their contents, only an acknowledgment that they exist and may be relevant to the TechDirect audience.

ESTCP FY 2010 Solicitation. The Department of Defense (DoD), through the Environmental Security Technology Certification Program (ESTCP), is seeking innovative environmental technology demonstrations as candidates for funding beginning in Fiscal Year (FY) 2010. This solicitation requests pre-proposals via Calls for Proposals to DoD organizations and Federal (Non-DoD) organizations, and via a Broad Agency Announcement (BAA) for Private Sector organizations. Pre-proposals are due by Thursday, March 5, 2009. For more information about the solicitation and instructions for submitting proposals, see http://www.estcp.org/opportunities/ .

ITRC Calls for 2010 Project Proposals. The Interstate Technology and Regulatory Council (ITRC) requests proposals for 2010 projects. ITRC would like to focus proposals on: biological drinking water treatment, confined animal feeding operations, site characterization and remediation, greenhouse gas emission tracking and reporting, munitions constituents, pharmaceuticals and personal care products, and storm water management. Proposals on other topics will be considered, but preference will be given to those that address one of the following areas. Proposals are due electronically by 5pm Eastern time on Monday, March 9, 2009. For more information about the RFP and a proposal form, see http://www.itrcweb.org/planning.asp .

2009 CARE National Webcast - February 3, 24, 27. This national webcast is an opportunity for potential applicants for the CARE cooperative agreement grant program to learn more about the program and to ask questions about the CARE Request for Proposals issued in December 2008. For more information and to register, see http://clu-in.org/live .

ITRC In Situ Bioremediation of Chlorinated Ethene - DNAPL Source Zones - February 10, 2009, 2:00PM-4:15PM EST (19:00-21:15 GMT). Treatment of dissolved-phase chlorinated ethenes in groundwater using in situ bioremediation (ISB) is an established technology; however, its use for DNAPL source zones is an emerging application. This training course supports the ITRC Technical and Regulatory Guidance document In Situ Bioremediation of Chlorinated Ethene: DNAPL Source Zones (BioDNAPL-3, 2008). This document provides the regulatory community, stakeholders, and practitioners with the general steps practitioners and regulators can use to objectively assess, design, monitor, and optimize ISB treatment of DNAPL source zones. For more information and to register, see http://www.itrcweb.org or http://clu-in.org/live .

ITRC Enhanced Attenuation of Chlorinated Organics: A Site Management Tool - February 19, 2009, 11:00AM-1:15PM EST (16:00-18:15 GMT). This training on the ITRC Technical and Regulatory Guidance for Enhanced Attenuation: Chlorinated Organics (EACO-1, 2008) describes the transition (the bridge) between aggressive remedial actions and MNA and vise versa. Enhanced attenuation (EA) is the application of technologies that minimize energy input and are sustainable in order to reduce contaminant loading and/or increase the attenuation capacity of a contaminated plume to progress sites towards established remedial objectives. Contaminant loading and attenuation capacity are fundamental to sound decisions for remediation of groundwater contamination. This training explains how a decision framework which, when followed, allows for a smooth transition between more aggressive remedial technologies to sustainable remedial alternatives and eventually to Monitored Natural Attenuation. This training will demonstrate how this decision framework allows regulators and practitioners to integrate Enhanced Attenuation into the remedial decision process. For more information and to register, see http://www.itrcweb.org or http://clu-in.org/live .

ITRC Evaluating, Optimizing, or Ending Post-Closure Care at Municipal Solid Waste Landfills - February 26, 2009, 11:00AM-1:15PM EST (16:00-18:15 GMT). This training, based on ITRC's Technical and Regulatory Guidance: Evaluating, Optimizing, or Ending Post-Closure Care at Municipal Solid Waste Landfills Based on Site-Specific Data Evaluations (ALT-4, 2006), describes a method to evaluate the performance of Post Closure Care at a landfill and determine when leachate recovery, landfill gas management, groundwater monitoring, and cap maintenance can be reduced or even ended based on threats (to human health and the environment) posed by the closed landfill. The training and document describe custodial care as those requirements the property owner must follow after post closure care has been ended. For more information and to register, see http://www.itrcweb.org or http://clu-in.org/live .

Green Remediation Voluntary Standards Initiative - March 4, 2009, 1:00PM-3:00PM EST (18:00-20:00 GMT). EPA is considering options to develop a voluntary standards and verification system that evaluates and recognizes efforts to maximize the net environmental benefit of cleaning up contaminated sites, known as green remediation or green cleanup. These standards would guide and stimulate efficient, cost effective, low impact site remediation by encouraging property owners, developers and communities to go beyond state and federal requirements in their cleanups and land revitalization projects. The purpose of this seminar is to provide insight on how EPA anticipates such a voluntary program could advance green cleanups across cleanup programs and to provide an opportunity for discussion among interested parties. For more information and to register, see http://clu-in.org/live .

ITRC LNAPL Training Parts 1 and 2 - March 3 and 5, 2009. Light non-aqueous phase liquids (LNAPLs) are organic liquids such as gasoline, diesel, and other petroleum hydrocarbon products that are immiscible with water and less dense than water. LNAPLs are important because they are present in the subsurface at thousands of remediation sites across the country, and are frequently the focus of assessment and remediation efforts. Part 1 of this training course explains how LNAPLs behave in the subsurface and examines what controls their behavior. Part 1 also explains what LNAPL data can tell you about the LNAPL and site conditions. Relevant and practical examples are used to illustrate key concepts. Part 2 addresses LNAPL characterization and site conceptual model development as well as LNAPL recovery evaluation and remedial considerations. Specifically, Part 2 discusses key LNAPL and site data, when and why those data may be important, and how to get those data. Part 2 also discusses how to evaluate LNAPL recoverability. For more information and to register, see http://www.itrcweb.org or http://clu-in.org/live .

Tackling the Carbon Footprint at Pump and Treat Projects: A Case Study in Energy Efficiency - March 10, 2009, 1:00PM-3:00PM EDT (17:00-19:00 GMT). With the goal of advancing knowledge in green remediation best practices, over the last year EPA and Massachusetts DEP have collaborated to develop an approach to reduce the energy usage and carbon footprint at an existing pump and treat system. This seminar presents the results of this work, including alternatives considered and the final proposal of using combined heat and power (CHP) to provide the necessary energy to power the system and to increase the efficiency of above-ground treatment components. For more information and to register, see http://clu-in.org/live .

Technology News and Trends (EPA 542-N-09-001). This issue highlights recent applications of Triad, an integrated site characterization and cleanup strategy that limits decision uncertainty and reduces project duration and cost. In contrast to using one-time, exclusive steps typical of a linear strategy, Triad approaches conceptual site model development, planning, data review, characterization, and remedy implementation as real-time, evolving, iterative procedures. Applications described in this issue illustrate how direct sensing tools, field-based analytical methods, innovative sampling design, and data visualization and communication provide high-density, defensible datasets within a range of regulatory frameworks (January 2009, 6 pages). View or download at http://clu-in.org/techpubs.htm .

Guidance for the Sampling and Analysis of Lead in Indoor Residential Dust for use in the Integrated Exposure Uptake Biokinetic (IEUBK) Model (OSWER 9285.7-81). The purpose of this guidance document is to recommend methods for collecting and analyzing indoor residential dust data to estimate the mean concentration of lead in dust for use in the Integrated Exposure Uptake Biokinetic (IEUBK) model. The recommendations apply to applications of the IEUBK model in Superfund lead risk assessments and may not be appropriate for other applications (December 2008, 23 pages). View or download at http://www.epa.gov/superfund/lead/guidance.htm#dustsam .

Preliminary Remediation Goals for Radionuclides in Outside Surfaces (SPRG) (OSWER 9355.5-26). This electronic calculator provides information on establishing preliminary remediation goals for radionuclides in outside hard surfaces (SPRGs) at Comprehensive Environmental Response, Compensation, and Liability Act (CERCLA) sites with radioactive contamination. The calculator presents standardized exposure parameters and equations that should generally be used for calculating radionuclide SPRGs for outside hard surfaces (e.g., building slabs, outside building walls, sidewalks and roads) with either a residential or a commercial/industrial use (January 2009, 3 pages). View transmittal memo and use electronic calculator at http://www.epa.gov/superfund/health/contaminants/radiation/radrisk.htm .

FootPrint. FootPrint is a simple and user-friendly screening model used to estimate the length and surface area of benzene, toluene, ethylbenzene, and xylene (BTEX) plumes in ground water, produced from a spill of gasoline that contains ethanol. Ethanol has a potential negative impact on the natural biodegradation of BTEX compounds in ground water. The primary objective of the software is to predict the increase in surface area of the plume of BTEX compounds or any other chemical of concern (COC) due to the presence of ethanol in ground water. FootPrint estimates the area of a plume of particular BTEX compounds that are contained within two biodegradation zones: 1) a zone that is immediately adjacent to the source, where ethanol is present in high concentration and no biodegradation of the BTEX compounds (or other COC) is allowed, and 2) a second zone, where the ethanol concentration is negligible due to the natural biodegradation of ethanol in the first zone and biodegradation of the BTEX compound (or other COC) contributes to attenuation in concentration of the BTEX compounds. FootPrint is based on the modified version of the Domenico model (1987) published by Martin-Hayden and Robbins (1997). Download at http://www.epa.gov/ada/csmos/models/footprint.html .

Abandoned Mines and the Water Environment. The UK Environment Agency, Scottish Environment Protection Agency and the UK Coal Authority have published a report on pollution of rivers and groundwater by abandoned coal and metal mines in the UK, and the work being done to manage this problem (August 2008, 40 pages). View or download at http://publications.environment-agency.gov.uk/pdf/SCHO0508BNZS-e-e.pdf .

Assessment of Metal Mining-Contaminated River Sediments in England and Wales. The UK Environment Agency has published a report on contamination of river sediments and flood plain soils by metal mines. The report recommends the setting of new sediment and soil quality guidelines, proposes a risk-based approach to investigating sediments and floodplain soils in catchments affected by mining activities, increased monitoring of these contaminated sediments, and strategies to manage and clean-up mine-contaminated areas (November 2008, 64 pages). View or download at http://publications.environment-agency.gov.uk/pdf/SCHO1108BOZD-e-e.pdf .

Triad Training for Managers, Atlanta, GA, March 4, 2009. This course introduces the Triad process, which can be applied to site characterization, remedial design, remedy implementation, remedy operation and maintenance, and remedy optimization. The Triad process is designed to streamline the project lifecycle for environmental restorations in a legal, technically sound, and cost-effective manner. For more information and to register, see http://www.trainex.org/classdetails.cfm?classid=3983&courseid=795 .

2009 Conference on Design and Construction Issues at Hazardous Waste Sites, Philadelphia, PA, April 13-15, 2009. The conference, hosted by the EPA and the US Army Corps of Engineers, will provide a forum for discussion among professionals from the private and public sectors regarding design and construction issues at hazardous waste sites, including effective methods, lessons learned, and application of technologies. The conference is free, but registration is required. For more information and to register, see https://superfund.usace.army.mil/2009DCHWS .

NOTE: For TechDirect, we prefer to concentrate mainly on new documents and the Internet live events. However, we do support an area on CLU-IN where announcement of conferences and courses can be regularly posted. Currently there are 182 conferences and courses featured. We invite sponsors to input information on their events at http://clu-in.org/courses . Likewise, readers may visit this area for news of upcoming events that might be of interest. It allows users to search events by location, topic, time period, etc.

If you have any questions regarding TechDirect, contact Jeff Heimerman at (703) 603-7191 or heimerman.jeff@epa.gov. Remember, you may subscribe, unsubscribe or change your subscription address at http://clu-in.org/techdrct at any time night or day.


Unsubscribe | Modify Your Subscription | Questions & Comments | Technical Problems
Privacy and Security Notice
TechDirect Archives