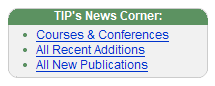 Welcome to TechDirect! Since the May 1 message, TechDirect gained 193 new subscribers for a total of 33,521. If you feel the service is valuable, please share TechDirect with your colleagues. Anyone interested in subscribing may do so on CLU-IN at http://clu-in.org/techdirect . All previous issues of TechDirect are archived there. The TechDirect messages of the past can be searched by keyword or can be viewed as individual issues.

TechDirect's purpose is to identify new technical, policy and guidance resources related to the assessment and remediation of contaminated soil, sediments and ground water.

Mention of non-EPA documents or presentations does not constitute a U.S. EPA endorsement of their contents, only an acknowledgment that they exist and may be relevant to the TechDirect audience.

The U.S. EPA Technology Innovation and Field Services Division is still looking for two good people. Our Environmental Response Team (ERT) specializes in field support and technical expertise for EPA responses to oil spills, hazardous emergencies, potentially hazardous scenarios, environmental disasters and long-term remedial activities as well as detection and analytical method development for biological and chemical agents. ERT is active in providing both national and international assistance to remediate and limit damage to air, land and water and to evaluate threats to both human and ecological health. The ERT is prepared to respond to environmental emergencies 24 hours a day, seven days a week, 365 days a year.

Last month we posted information on three positions that were to be announced on USAJobs (http://www.USAJobs.gov). The announcement for the two physical scientists is now closed. The Chemist position remains open through June 4. The ERT is now seeking a health physicist through USAJobs. If interested, apply through USAJOBS. The intent of this announcement is to inform you that specific positions in our organization are being competed. Please do not send information to me. I will not respond. Do not call me for information about these positions. Again this information is provided as a service. Formal announcements of federal jobs occur on the USAJOBS site.

One (1) Chemist GS 12/13
Announcement Number: HQOSWER-DE-2009-0039
Announcement Open Period: Thursday, May 14, 2009 to Thursday, June 4, 2009
http://jobview.usajobs.gov/getjob.aspx?jobid=80983685
The Chemist position will be responsible for our Trace Atmospheric Gas Analyzer (TAGA) bus. This chemist needs to have MS/MS and GC/MS experience to be able to manage the TAGA MS/MS which provides real time monitoring for many organic and inorganic compounds at the ppbv level and the Agilent CG/MS for air sample analyses. In addition, this person will provide routine and emergency site advice and technical support on field analytical tools. Travel may be over 10 days per month throughout the US in support of site clean up, national technical workgroups and hazardous material and homeland security exercises. This position is located in Las Vegas, Nevada.

One (1) Health Physicist GS 13/14
Announcement Number: HQOSWER-DE-2009-0042
Announcement Open Period: Friday, May 29, 2009 to Thursday June 18, 2009
http://jobview.usajobs.gov/getjob.aspx?jobid=81237873
This Health Physicist position will provide radiological emergency response support for environmental emergencies throughout the US and abroad, in support of the EPA emergency response program, removal program, and homeland security. This involves providing on-site advice and technical support to Federal On-Scene Coordinators, Incident Commanders, and Remedial Project Managers for investigations, assessments, sampling, and modeling projects. Routine travel is over 10 days per month (throughout the US and abroad) in support of response operations, national technical workgroups and exercises. This position is located in the Cincinnati area (Erlanger, Kentucky).

Cumulative Risk Assessment Seminar Series - June 2, 16, 30, July 14. EPA's Office of Research and Development and Regions are sponsoring this series of seminars as a forum for discussing the current state of the art and practice of CRA. These seminars will provide information regarding guidance, resources, and recommendations for real world CRA for regulatory and non-regulatory applications. This seminar series is, in part, preparation for the EPA ORD/Regional Workshop on CRA being hosted by Region 5 in Chicago, IL for July 28-30, 2009. The seminar series is publicly open in support of advancing CRA while the workshop will primarily be internal to EPA to enhance policy and other deliberative discussions. For more information and to register, see http://clu-in.org/live .

ITRC Enhanced Attenuation of Chlorinated Organics: A Site Management Tool - June 4, 2009, 11:00AM-1:15PM EDT (15:00-17:15 GMT). This training on the ITRC Technical and Regulatory Guidance for Enhanced Attenuation: Chlorinated Organics (EACO-1, 2008) describes the transition (the bridge) between aggressive remedial actions and MNA and vise versa. Enhanced attenuation (EA) is the application of technologies that minimize energy input and are sustainable in order to reduce contaminant loading and/or increase the attenuation capacity of a contaminated plume to progress sites towards established remedial objectives. Contaminant loading and attenuation capacity are fundamental to sound decisions for remediation of groundwater contamination. This training explains how a decision framework which, when followed, allows for a smooth transition between more aggressive remedial technologies to sustainable remedial alternatives and eventually to Monitored Natural Attenuation. This training will demonstrate how this decision framework allows regulators and practitioners to integrate Enhanced Attenuation into the remedial decision process. For more information and to register, see http://www.itrcweb.org or http://clu-in.org/live .

ITRC Protocol for Use of Five Passive Samplers - June 9, 2009, 2:00PM-4:15PM EDT (18:00-20:15 GMT). This training supports the understanding and use of the ITRC Protocol for Use of Five Passive Samplers to Sample for a Variety of Contaminants in Groundwater (DSP-5, 2007). The five technologies included in this document include diffusion samplers, equilibrated grab samplers, and an accumulation sampler. The training starts with information common to all five samples then focuses on each sampler as instructors describe the sampler and explain how it works; discuss deployment and retrieval of the sampler; highlight advantages and limitations; and present results of data comparison studies. For more information and to register, see http://www.itrcweb.org or http://clu-in.org/live .

ITRC In Situ Bioremediation of Chlorinated Ethene - DNAPL Source Zones - June 11, 2009, 11:00AM-1:15PM EDT (15:00-17:15 GMT). Treatment of dissolved-phase chlorinated ethenes in groundwater using in situ bioremediation (ISB) is an established technology; however, its use for DNAPL source zones is an emerging application. This training course supports the ITRC Technical and Regulatory Guidance document In Situ Bioremediation of Chlorinated Ethene: DNAPL Source Zones (BioDNAPL-3, 2008). This document provides the regulatory community, stakeholders, and practitioners with the general steps practitioners and regulators can use to objectively assess, design, monitor, and optimize ISB treatment of DNAPL source zones. For more information and to register, see http://www.itrcweb.org or http://clu-in.org/live .

Superfund Redevelopment Initiative (SRI) 10th Anniversary: Celebrating Success - June 18, July 16, September 17, and October 22. EPA's Superfund Redevelopment Initiative (SRI) celebrates its 10-year Anniversary in 2009! To mark this event, EPA is hosting a diverse series of seminars featuring Superfund site reuse success stories. This and successive webinars will present reuse case studies on multi-use, renewable energy, ecological reuse, and commercial reuse. For more information and to register, see http://clu-in.org/sri .

Computational Toxicology: Dose Response Modeling - June 24, 2009, 1:30PM-3:30PM EDT (17:30-19:30 GMT). The Superfund Basic Research Program (SBRP), in collaboration with the US Environmental Protection Agency's Office of Superfund Remediation and Technology Innovation (OSRTI), presents the Spring/Summer 2009 edition of Risk eLearning: "Computational Toxicology: New Approaches for the 21st Century." This series of online seminars will provide an introduction to the key concepts of computational toxicology along with case studies demonstrating the utility of these approaches (e.g. high throughput screening, computer modeling, informatics) to risk assessment. This seminar, the second of the series, will feature SBRP grantees Dr. Melvin Andersen (The Hamner Institute), Dr. Norbert Kaminski (Michigan State University), and Dr. Rory Conolly (NCCT/ORD/USEPA). For more information and to register, see http://clu-in.org/live .

Technology News and Trends (EPA 542-N-09-003). This issue highlights innovative applications of soil vapor extraction (SVE) and bioventing for removal of volatile organic compounds (VOCs). SVE has accounted for approximately 25% of the in situ technologies used for source control over the past 25 years, and recent years have shown rising interest in bioventing technology (May 2009, 6 pages). View or download at http://clu-in.org/techpubs.htm .

June 2009 State Coalition for Remediation of Drycleaners Newsletter. The State Coalition for Remediation of Drycleaners (SCRD) produces a newsletter to announce recent events and undertakings. The June 2009 issue discusses state and national updates, state progress on remediation of drycleaning sites, remedial technologies employed at SCRD drycleaning sites, and upcoming events (June 2009, 4 pages). View or download at http://www.drycleancoalition.org/download/news0609.pdf .

Engineering and Design - Landfill Off-Gas Collection and Treatment Systems (EM 1110-1-4016). This EM establishes criteria and guidance for landfill off-gas collection and treatment systems. It provides information about the design of systems to monitor, collect, transport, and treat off-gas from municipal, industrial and hazardous waste landfills. The EM describes various landfill gas (LFG) emission control techniques and presents design procedures relative to each (May 2008, 110 pages). View or download at http://140.194.76.129/publications/eng-manuals/em1110-1-4016/entire.pdf .

Groundwater Contamination and Treatment Department of Energy Sites. The Department of Energy (DOE) has one of the largest groundwater contamination problems and subsequent cleanup responsibilities in the world, in terms of the sheer volume of affected groundwater, number of plumes, range of hydrogeologic settings, and diversity of contaminant types. Plume maps and assessments have been prepared for DOE sites to summarize the nature and extent of groundwater contamination and to identify approaches being taken to remediate the contaminated groundwater. The purpose of this document is to provide DOE Program/Project Managers, upper management, and other interested parties with a snapshot in time of the status of major groundwater contamination and remedial approaches across the DOE Complex (August 2008, 27 pages). View or download at http://www.em.doe.gov/pdfs/Groundwater_Booklet-2008.pdf

EUGRIS Corner. New Documents on EUGRIS, the platform for European contaminated soil and water information. More than 24 resources, events projects and news items were added to EUGRIS 1 - 24 May, 2009. These can be viewed at http://www.eugris.info/whatsnew.asp. Then select the appropriate month and year for the updates in which you are interested. The following reports were featured on EUGRIS:

SUBR:IM Acid Tar Lagoons Web Site (2009). This website has been set up as part of a UK EPSRC funded research project 'Restoration of acid tar and acid tar lagoons', to provide a focus for research and information on acid tar lagoons. There is a very little information on acid tars in the public domain. This site aims to partially redress that balance. Specifically it aims to: a) encourage communication and information exchange between researchers and practitioners involved in the investigation and restoration of acid tar lagoons. b) provide an up to date information resource including a comprehensive bibliography. View online at http://www.acidtarlagoons.org.uk/index.htm .

Land Contamination & Reclamation - open access area (1998-2003). A quarterly journal featuring peer-reviewed papers by international researchers, practitioners and regulators on the contamination and remediation of soil and groundwater, including sampling, investigation, risk assessment, and innovative and established remediation options. The journal also covers legal, policy, economic and communication issues. This online area contains select articles published in Land Contamination & Reclamation, and which are available to read or download at no charge. View online at http://epppublications.books.officelive.com/default.aspx .

Vapor Intrusion Pathway: A Practical Guideline ITRC 2-day Classroom Training, Sacramento, CA on June 22-23 and Long Beach, CA on June 25-26 . Led by internationally recognized experts, this 2-day ITRC classroom training will enable you to learn the latest strategies to conduct site screening and investigations; determine what tools are appropriate to collect quality data and evaluate the results; apply multiple lines of evidence to ensure quality decision-making; build solutions for VI issues through understanding of mitigation options; and network with environmental professionals dealing with this interdisciplinary and complex pathway. Interactive learning with hands-on exhibits, classroom exercises, and frequent Q&A sessions will reinforce these course objectives and contribute to a practical understanding of this difficult pathway. For more information and to register, see http://www.itrcweb.org/crt.asp .

Reminder!! Environmental Implications and Applications of Nanotechnology: Amherst, MA, June 9-11, 2009. The Conference on the Environmental Implications and Applications of Nanotechnology will convene leading nano researchers, nano policy and regulatory experts, practitioners, manufacturers and users to better understand the environmental aspects of nanotechnology - from characterization, fate and transport, and environmental health and safety, to green nanotechnology and new nanotechnology applications for pollution control and remediation. Sessions will address both new research findings and policy and regulatory issues in three concurrent tracks over the course of three days. The conference will feature keynote presentations from leading nano researchers and regulatory experts, 78 platforms presentations, plenary sessions, poster sessions, and special events. The Conference will conclude with a special plenary panel of experts representing academia, industry, NGO, and government who will draw upon the conference sessions and their various perspectives to discuss effective science-based decision making for the safe use of nanotechnology. For more information and to register, see http://www.umass.edu/tei/conferences/nanoconference/ .

NOTE: For TechDirect, we prefer to concentrate mainly on new documents and the Internet live events. However, we do support an area on CLU-IN where announcement of conferences and courses can be regularly posted. Currently there are 128 conferences and courses featured. We invite sponsors to input information on their events at http://clu-in.org/courses . Likewise, readers may visit this area for news of upcoming events that might be of interest. It allows users to search events by location, topic, time period, etc.

If you have any questions regarding TechDirect, contact Jeff Heimerman at (703) 603-7191 or heimerman.jeff@epa.gov. Remember, you may subscribe, unsubscribe or change your subscription address at http://clu-in.org/techdirect at any time night or day.


Unsubscribe | Modify Your Subscription | Questions & Comments | Technical Problems
Privacy and Security Notice
TechDirect Archives