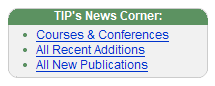 Welcome to TechDirect! Since the November 1 message, TechDirect gained 240 new subscribers for a total of 29,563. If you feel the service is valuable, please share TechDirect with your colleagues. Anyone interested in subscribing may do so on CLU-IN at http://clu-in.org . All previous issues of TechDirect are archived there. The TechDirect messages of the past can be searched by keyword or can be viewed as individual issues.

TechDirect's purpose is to identify new technical, policy and guidance resources related to the assessment and remediation of contaminated soil, sediments and ground water.

Mention of non-EPA documents or presentations does not constitute a U.S. EPA endorsement of their contents, only an acknowledgment that they exist and may be relevant to the TechDirect audience.

SERDP Core Solicitation. The DoD Strategic Environmental Research and Demonstration Program (SERDP) released its annual Core solicitation for FY 2009 in November. Both federal and non-federal organizations may participate. SERDP is seeking proposals for environmental research and development efforts to identify, develop, and transition the underlying science and environmental technologies that support the long-term sustainability of DoD's training and testing ranges as well as significantly reduce current and future environmental liabilities. SERDP has four areas in its Statements of Need (SON), which include: environmental restoration, munitions management, sustainable infrastructure, and weapons systems and platforms. For the CORE solicitation, pre-proposals from the non-federal sector are due by January 8, 2008. Proposals from the federal sector are due by March 6, 2008. The SONs and detailed instructions for federal and private sector proposers are available at http://www.serdp.org/funding .

SERDP SEED Solicitation. SERDP also will be funding environmental research and development through the SERDP Exploratory Development (SEED) program. The SEED program is designed to provide initial funding for high-risk, high-payoff projects. For FY2009, proposals are being requested that respond to one SEED Statement of Need in Munitions Management. All SEED proposals are due by March 6, 2008. The SEED SON and detailed instructions for both federal and non-federal proposers are available http://www.serdp.org/funding .

NIEHS SBRP Solicitation. The National Institute of Environmental Health Sciences' (NIEHS) Superfund Basic Research Program (SBRP) has released a new Funding Opportunity Announcement (FOA), entitled "Development and Application of Nanotechnology-based Tools to Understand Mechanisms of Bioremediation." The FOA objective is to enhance our understanding of biological populations involved in the bioremediation of hazardous substances by integrating or adapting innovative nanotechnology-based tools. To be eligible, your organization must be an accredited US institution of higher education. Letters of intent are requested by January 16, 2008 and final applications are due February 15, 2008. For more information, contact Heather Henry henryh@niehs.nih.gov, 919-541-5330) or visit http://www.niehs.nih.gov/research/supported/sbrp/funding/funding2.cfm .

Ecological Restoration Resources Available through EPA - Part 1 - December 3. Ecological revitalization can return damaged land to a state of health, vitality, and diversity. This presentation will identify fact sheets, papers and training available on revitalization through EPA's OSRTI; and present ongoing work such as compilation of resources available - web-based, terrestrial carbon sequestration potential on amended sites, future internet seminars and case studies, and an OSWER document on converting disturbed sites to green space. Although OSRTI conducts research in the interest of the Superfund program, it believes that these resources on ecological restoration can be useful to any site restoration project. This seminar will also feature a case study about the Hog Island and Newton Creek Ecological Restoration project on the restoration of natural communities and ecosystem processes for Newton Creek, the Hog Island Inlet, and Hog Island in Superior, Wisconsin. The ecological restoration process for this site along with information on a template that can be used for other projects will be discussed. For more information and to register, see http://clu-in.org/studio .

Ecological Restoration Resources Available through EPA - Part 2 - December 5. Ecological Restoration at hazardous waste sites, including RCRA sites, can provide many benefits to surrounding community. The speaker will cover some of the resources available on ecological restoration, including EPA's GreenScapes program. The speaker will also provide a few examples of ecological restoration at RCRA sites. The second presentation will focus on the use of biosolids for restoration of contaminated sites/reclamation of drastically disturbed lands. Over half of the 7 Million dry metric tons of biosolids produced by wastewater treatment plants in the U.S. are currently land applied in various forms (e.g., aerobically or anaerobically digested, alkaline treated, air or heat dried; liquid, dewatered cake, composted, pelletized), mostly to agricultural land, but also to forest land and reclamation sites. Land reclamation projects involving biosolids have been used to improve soil conditions and support revegetation of highly disturbed and in some cases contaminated sites (e.g., surface mines, mine waste piles, construction sites, barrow pits, sand dunes, areas devastated by forest fires) all across the country, with some projects demonstrating sustainable vegetation and continued soil improvement for more than 30 years. For more information and to register, see http://clu-in.org/studio .

ITRC Performance-based Environmental Management - December 11. Performance-based environmental management (PBEM) is a strategic, goal-oriented methodology that is implemented through effective planning and decision logic to reach a desired end state of site cleanup. The goal of PBEM is to be protective of human health and the environment while efficiently implementing appropriate streamlined cleanup processes. This ITRC training presents an overview of what PBEM is, explains how and when to implement it, and describes the issues that regulators are concerned about throughout PBEM's implementation. Case studies will be presented to illustrate successful PBEM projects. The course is valuable not only because PBEM is being proposed and implemented at many federal and private sites throughout the country, but also because PBEM provides an opportunity to enhance all site remediation. For more information and to register, see http://www.itrcweb.org or http://clu-in.org/studio .

ITRC An Overview of Direct-push Well Technology for Long-term Groundwater Monitoring - December 13. Direct-push wells have been used for temporary groundwater monitoring purposes for many years but are generally prohibited for use as long-term groundwater monitoring wells. Recent research indicates that direct-push wells are as well suited for long-term environmental groundwater monitoring purposes as conventionally constructed wells. This training introduces ITRC's The Use of Direct-push Well Technology for Long-term Environmental Monitoring in Groundwater Investigations (SCM-2, 2006), provides a background in the principles of direct-push wells, and presents the state of the art regarding recent research. For more information and to register, see http://www.itrcweb.org or http://clu-in.org/studio .

SERDP Funding Opportunities - December 14. This seminar will provide a summary of the Strategic Environmental Research and Development Program (SERDP) development and opportunities for interested researchers to conduct research and development. This "how to play" briefing will offer essential information for those who wish to understand new funding opportunities within SERDP. The FY09 SERDP solicitation was released in November and attendees may use this time to ask general questions about the solicitation. For more information and to register, see http://clu-in.org/studio .

Crozet Phytoremediation. This video highlights EPA's Green Remediation initiative, which considers the environmental effects of the remedial strategy early in the process, and incorporates options to maximize the net environmental benefit of the cleanup. From the selection and design of the remediation technology, to the management of on site activities, to the use of energy conservation and alternative sources of clean energy, Green Remediation helps save natural resources and taxpayers money. In this presentation, a former orchard in Crozet, VA is cleaned using Phytoremediation and incorporates many of the Green Remediation goals. View or download at http://clu-in.org/studio .

Ecological Restoration of Lands. This web site is a resource for project managers and others seeking information and guidance on ecological restoration and revitalization. Includes a glossary of restoration terms and a set of principles for ecological restoration; as well as information and links to resources on soil health and amendments, native and invasive plant species, and ecosystem-based restoration. Also features a comprehensive list of region-by-region and state-by-state federal and local resources for ecological restoration projects, including the Federal Highway Administration's publication, "Roadside Use of Native Plants." View and use at http://clu-in.org/products/ecorestoration/ .

New CLU-IN Field Analytic Technologies Section on Membrane Interface Probes. A membrane interface probe (MIP) is a semi-quantitative, field-screening device that can detect volatile organic compounds (VOCs) in soil and sediment. It is used in conjunction with a direct push platform (DPP), such as a cone penetrometer testing rig (CPT) or a rig that uses a hydraulic or pneumatic hammer to drive the MIP to the depth of interest to collect samples of vaporized compounds. The probe captures the vapor sample, and a carrier gas transports the sample to the surface for analysis by a variety of field or laboratory analytical methods. Additional sensors may be added to the probe to facilitate soil logging and identify contaminant concentrations. The results produced by a MIP at any location are relative and subject to analytic verification. View at http://clu-in.org/char/technologies/mip.cfm .

RemTech 2007 Proceedings. The Environmental Services Association of Alberta (ESAA) has posted the 63 presentations from the 2007 Remediation Technologies Symposium, RemTech 2007, held October 24-26, 2007. In addition, the website contains an archive of all of the presentations since 2002. There are now over 260 presentations contained within this valuable resource that is searchable and free. Technical presentations include case studies all focused on remediation and a variety of technologies, applications and contaminants. For more information, see http://www.esaa-events.com/remtech .

Government UST Compliance Reports. Section 1526 of the Energy Policy Act of 2005 required that each state and territory receiving funds under Subtitle I of the Solid Waste Disposal Act must submit to EPA's Administrator by August 8, 2007 a report regarding each noncompliant UST located in its jurisdiction that is owned or operated by the federal, state, or local government. Additionally, the Energy Policy Act required that EPA make each report received available to the public through an appropriate media. EPA's posting of states' and territories' reports on the Agency's web site fulfills that requirement. To see the compliance report for each state and territory, see http://www.epa.gov/oust/fedlaws/sfreport.htm .

EUGRIS Corner. New Documents on EUGRIS, the platform for European contaminated soil and water information. More than 45 resources, events, projects and news items were added to EUGRIS in November, 2007. These can be viewed at http://www.eugris.info/whatsnew.asp. Select the appropriate month and year for the updates in which you are interested. The following reports were featured on EUGRIS:

Derivation Methods of Soil Screening Values in Europe: A Review and Evaluation of National Procedures towards Harmonisation (EUR 22805-EN). This report was published by the European Commission - DG Joint Research Centre. The HERACLES Project recently published its review of derivation methods of soil screening values in Europe. The review analyzed the bases of screening values used in EU Member States and initiated a discussion on the reasons for their differences. Specific objectives of the review were the following: to describe the state of the art of SVs derivation methods and their application in Europe; to assess commonalities and main differences among national methods; to gain a further insight in reasons of differences; and to identify opportunities for harmonization. The work focused on soil contamination, but also investigated the relation between the soil and groundwater SVs (Summer 2007, 320 pages). View or download at http://www.nicole.org/news/downloads/EUR22805-EN%20(3)_27_AUG.pdf .

European Union Soil Portal. The EU Joint Research Centre established the EU Soil Portal to present data and information regarding soils at European level. It connects to activities within JRC concerning soil (JRC SOIL Action). It serves also as a vehicle to promote the activities of the European Soil Bureau Network. Spatial data collection and processing within this infrastructure is performed according to emerging ideas behind the INSPIRE (Infrastructure for Spatial Information in Europe) initiative. For more information, see http://eusoils.jrc.it/index.html .

2008 AFCEE Technology Transfer Workshop, San Antonio, TX, March 25-28. The 2008 AFCEE Technology Transfer Workshop, "Focus on the Goal - RIP by 2012", will bring together professionals from military services, industry, academia, local, state, and federal agencies to translate ideas, success stories, case histories, current trends, and technologies into solutions for environmental restoration. The three-day schedule, with a fourth day of optional short courses, includes over 100 technical presentations on a variety of topics, exhibitors showcasing their latest equipment, products, technology, and services, along with networking opportunities. For more information and to register, see http://www.afcee.brooks.af.mil/products/techtrans/workshop/ .

SERDP and ESTCP Partners in Environmental Technology Technical Symposium & Workshop, Washington, DC, December 4-6. Sponsored by SERDP and ESTCP, this event will provide attendees: (1) plenary session speakers offering key insights into environmental issues; (2) concurrent technical sessions covering the latest in environmental research results and technical innovations; (3) poster sessions featuring more than 400 technical posters; (4) exhibit booths offering information about funding opportunities in related research programs; (5) networking opportunities with more than 1,000 environmental professionals; and (6) a concluding session providing a summary of SERDP and ESTCP funding opportunities to conduct research and demonstrations. For more information and to register, see http://www.serdp.org/Symposium/ .

NOTE: For TechDirect, we prefer to concentrate mainly on new documents and the Internet live events. However, we do support an area on CLU-IN where announcement of conferences and courses can be regularly posted. Currently there are 156 conferences and courses featured. We invite sponsors to input information on their events at http://clu-in.org/courses . Likewise, readers may visit this area for news of upcoming events that might be of interest. It allows users to search events by location, topic, time period, etc.

If you have any questions regarding TechDirect, contact Jeff Heimerman at (703) 603-7191 or heimerman.jeff@epa.gov. Remember, you may subscribe, unsubscribe or change your subscription address at http://clu-in.org/techdrct at any time night or day.


Unsubscribe | Modify Your Subscription | Questions & Comments | Technical Problems
Privacy and Security Notice
TechDirect Archives