Utilizing Innovative Materials Science Approaches to Enhance Bioremediation: Session III - Plant and Fungal-based Bioremediation.
Sponsored by: NIEHS Superfund Research Program
Archived: Friday, May 13, 2022

View Archive
The NIEHS Superfund Research Program (SRP) is hosting a Progress in Research webinar series to showcase new breakthroughs to advance sustainable solutions for hazardous substances in the environment. The three-part series will feature SRP individual research projects funded in 2020, who are incorporating new advances in materials science to optimize bioremediation of contaminants in soil, sediment, or water. In each session, awardees will describe their research projects, accomplishments, and next steps.

The third and final session will focus on strategies to improve how plant and fungi remove hazardous substances from soil.

Texas A&M Agrilife Research scientists are designing an integrated system using nanotechnology to enhance the capacity of fungi to break down persistent organic pollutants, such as PFAS. They seek to understand how modifying their nanomaterials can improve chemical adsorption and favor fungal growth. Laboratory tests are using samples collected from the Randolph Air Force Base in Texas.

At the University of Massachusetts Amherst researchers are genetically engineering plants to take up arsenic from soil and store it in their tissues. They are modifying the expression of genes that control the binding of arsenic and adding nanosulfur to the plant to improve its growth arsenic storage capacity.

Yale University researchers are designing nanomaterials customized to bind and take up PFAS from contaminated soil and water into hemp plants. Their nanomaterials are based on silica nanoparticles with high porosity and surface area, and on carbon dots known for their small size and fluorescence, which will allow the team to visually track the PFAS movement into and throughout the plants.
Accessibility, Recording, and Content Disclaimer
Rehabilitation Act Notice for Reasonable Accommodation
It is EPA's policy to make reasonable accommodation to persons with disabilities wishing to participate in the agency's programs and activities, pursuant to the Rehabilitation Act of 1973, 29 U.S.C. 791. Any request for accommodation should be made to Mali Velasco Delgado at 919-794-4708 or mali.velascodelgado@nih.gov, preferably one week or more in advance of the webinar, so that EPA will have sufficient time to process the request. EPA would welcome specific recommendations from requestors specifying the nature or type of accommodation needed. Please note that CLU-IN provides both alternate phone call-in options and closed captioning for all webinars, and requests for these specific accommodations are not necessary.
Webinar Recording
By participating in this CLU-IN webinar, you automatically agree to authorize recording of audio and visual content presented during this live event and consent to subsequent use of this recording in the public domain by the U.S. Environmental Protection Agency. This recording may include questions, comments and poll responses provided by you during the live event in addition to your name, voice, image or likeness. This recording will be made available after the conclusion of the live event as part of the CLU-IN webinar archives, and will remain available indefinitely. If you do not wish to consent to the recording, please do not join the live event, and contact Jean Balent at 202-566-0832 or balent.jean@epa.gov to discuss your concerns.
Content Disclaimer
This webinar is intended solely to provide information to the public. The views and opinions expressed as part of this webinar do not necessarily state or reflect those of the U.S. Environmental Protection Agency. It is not intended, nor can it be relied upon, to create any rights enforceable by any party in litigation with the United States, or to endorse the use of products or services provided by specific vendors. With respect to this webinar, neither the United States Government nor any of their employees, makes any warranty, express or implied, including the warranties of merchantability and fitness for a particular purpose, or assumes any legal liability or responsibility for the accuracy, completeness, or usefulness of any information, apparatus, product, or process disclosed, or represents that its use would not infringe privately owned rights.
Presenters: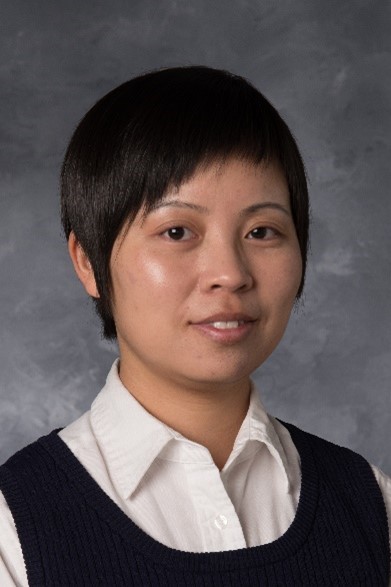 Susie Dai, Ph.D., Texas A&M Agrilife Research (sydai@tamu.edu)
Susie Dai, Ph.D., obtained her doctoral degree in Chemistry from Duke University and conducted her post-doc training with Scripps Research Institute and Oak Ridge National Laboratory. Dai is currently an Associate Professor in the Bioenvironmental Sciences program at the Texas A&M University, leading research, education, and outreach programs in developing technologies and platforms for contaminants remediation, harnessing CO2 for high-value product production, environmental contaminants surveillance, and environmental health advocacy. Before her faculty appointment with Texas A&M University, Dai served as the Associate Director of the Iowa State Hygienic Laboratory and the director of the Environmental Health Division, and an adjunct faculty in the Department of Occupational and Environmental Department, Department of Environmental and Civil Engineering.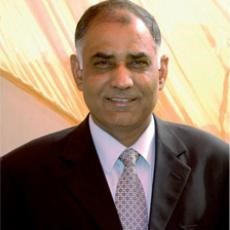 Om Parkash Dhankher, Ph.D., University of Massachusetts Amherst (parkash@umass.edu)
Om Parkash Dhankher, Ph.D., is a plant and agriculture biotechnologist and a professor in the School of Agriculture at the University of Massachusetts Amherst. His research focus is multidisciplinary in nature ranging from crop improvements, environmental remediation to biofuels. Along with strong research in engineering plants for detoxification and phytoremediation of heavy metals, his laboratory is developing arsenic free and arsenic tolerant food crops to improve human health using both forward and reverse genetic approaches. He was the first one to develop the transgenic plant-based approach for arsenic phytoremediation by combining the expression of two bacterial genes in plants. His research team is also engineering crops via manipulating key pathways and network of genes responsible for enhanced tolerance to multiple abiotic and oxidative stresses and glutathione homeostasis for improving crop yield under changing climate conditions. Additionally, his lab is involved in metabolic engineering of oil seed crops for increased oil yields for biofuels production and specialized biopolymers for industrial uses. Dr. Parkash Dhankher has extensively published his research work in high profile journals including Nature Biotech, PNAS, The Plant Cell, etc., and has several patents awarded to him based on his research findings.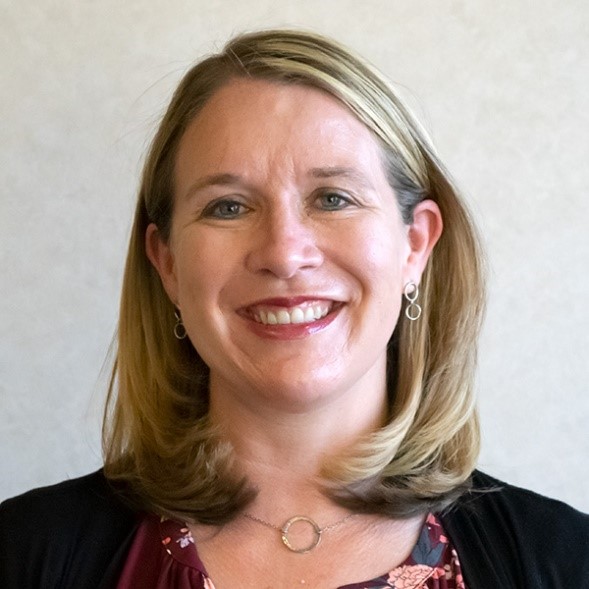 Christy Haynes, Ph.D., University of Minnesota (chaynes@umn.edu)
Christy Haynes, Ph.D., is the Distinguished McKnight University Professor at the University of Minnesota where she leads the Haynes Research Group, a lab dedicated to applying analytical and nanomaterials chemistry in the context of biomedicine, ecology, and toxicology. Dr. Haynes completed her undergraduate work at Macalester College in 1998 and earned a Ph.D. in chemistry at Northwestern University in 2003. Before joining the faculty at the University of Minnesota in 2005, Haynes performed postdoctoral research at the University of North Carolina, Chapel Hill. Among many honors, she has been recognized as an Alfred P. Sloan Fellow, a Searle Scholar, a Dreyfus Teacher-Scholar, a National Institutes of Health "New Innovator." She has also been recognized by her university as an Outstanding Postdoctoral Mentor and the Sara Evans Faculty Woman Scholar/Leader Award. Dr. Haynes is currently the Associate Head of the University of Minnesota Department of Chemistry, the Associate Director of the National Science Foundation-funded Center for Sustainable Nanotechnology, and an Associate Editor for the journal Analytical Chemistry.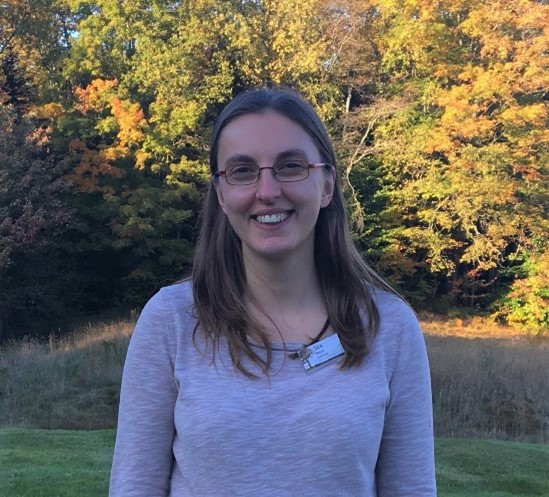 Sara Nason, Ph.D., Connecticut Agricultural Experiment Station (sara.nason@ct.gov)
Sara Nason, Ph.D., received her doctoral degree from the University of Wisconsin, Madison in 2017. She joined the Connecticut Agricultural Experiment Station in 2019 after a brief postdoc at the Johns Hopkins Bloomberg School of Public Health. She studies organic chemicals in the environment and methods for detecting them and enjoys participating in a wide variety of projects on PFAS, wastewater, plants, and other topics.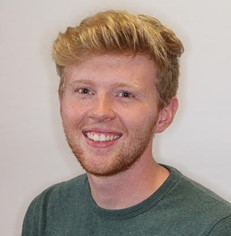 Riley Lewis, University of Minnesota (lewi1492@umn.edu)
Riley Lewis is a Ph.D. candidate in Chemistry at the University of Minnesota working with Dr. Christy Haynes. His research focuses on synthesizing novel nanomaterials and developing new techniques to assess their interactions with environmental pollutants. He also holds a Bachelor's degree in Chemistry from the New College of Florida.
Moderators: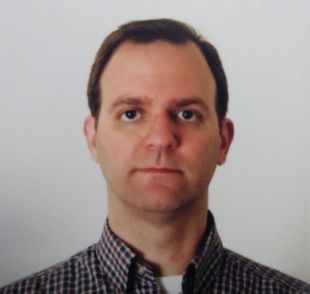 Anthony Danko, Naval Facilities Engineering and Expeditionary Warfare Center (anthony.danko@navy.mil)
Dr. Danko serves as an Environmental Engineer in the Environmental Restoration Division at the Naval Facilities Engineering and Expeditionary Warfare Center (NAVFAC EXWC). He is involved in various NAVFAC efforts and initiatives, including Optimization and the testing and demonstration of various innovative technologies. His current interests include RDT&E and technical support to Navy site mangers with a variety of compounds, including chlorinated solvents, petroleum hydrocarbons, and emerging contaminants, such as PFAS and 1,4-Dioxane. Dr. Danko is also a licensed professional engineer.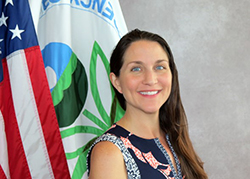 Jean Balent, U.S. EPA Technology Innovation and Field Services Division (balent.jean@epa.gov or 202-566-0832)
Ms Balent is on the staff of the EPA's Technology Innovation and Field Services Division where she has worked to collect and disseminate hazardous waste remediation and characterization information since 2003. Ms Balent manages the Clean Up Information Network website and actively supports online communication and collaboration resources available to EPA. She formerly worked with the US Army Corps of Engineers Environmental Engineering Division in the Buffalo District. Ms Balent was also a member of the SUNY-Buffalo Groundwater Research Group where she constructed and tested large scale models of groundwater flow. Ms Balent has also conducted research relating to the Great Lakes, environmental remediation, and brownfields re-development. She holds a Bachelor's degree in environmental engineering from SUNY-Buffalo and a Master's degree in Information Technology from AIU.
Webinar Slides and References:
Additional Resources:
If you have a suggested topic or idea for a future CLU-IN internet seminar, please contact:
Jean Balent
Technology Integration and Information Branch
PH:
202-566-0832 |
Email:
balent.jean@epa.gov
Michael Adam
Technology Integration and Information Branch
PH:
202-566-0875 |
Email:
adam.michael@epa.gov