Soil Amendments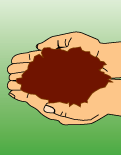 This page discusses soil-related issues, including soil health and the use of soil amendments to revitalize soils in order to make them suitable for sustaining plant life or development.
Why is soil health important?
All components of an ecosystem are dependent on viable and healthy soils for the system to function properly. Increased acidity, the presence of heavy metals and other contaminants, and high concentrations of salts can render a soil infertile by inhibiting plant growth, limiting microbial activity, and altering its physical properties. Therefore, it is critical to revitalize soil health in order to restore a degraded ecosystem. In many cases, adding soil amendments such as compost, manure, or lime can revitalize soil by adjusting pH, addressing chemical imbalances, and improving soil texture and structure.
What are soil amendments?
Some treatments involve adding soil amendments to the contaminated media. Soil amendments are materials added to soils in order to revitalize and make them suitable for sustaining plant life or development. Superfund sites and other sites with contaminated or disturbed soils exhibit a variety of problems that often can be addressed effectively and directly through the use of soil amendments. Project managers could evaluate their effects in the subsurface, their potential for eventual transport to surface waters, and their possible subsequent adverse effects on plant and animal communities.
Compost and biosolids are among the most commonly used soil amendments. Other amendments include manure, digestates, sludges, yard waste, and ethanol production by-products. Inorganic amendments include lime, wood ash, coal combustion products, foundry sands, steel slag, dredged materials, and water treatment residuals.
For additional information on soil amendments, please visit the EPA publication The Use of Soil Amendments for Remediation, Revitalization, and Reuse.
California Gulch Superfund Site in Colorado
Before and after photographs of the California Gulch Superfund Site in Colorado where site managers used high rates of lime amendment to neutralize the acidity of the mine tailings and applied municipal biosolids directly into the tailings along the Upper Arkansas River.
Photographs courtesy of Michael Holmes, EPA Region 8.
Bunker Hill Superfund Site (West Page Swamp Wetland Restoration Project), Idaho
Before and after photographs of the Bunker Hill Superfund Site in Idaho, where contamination was left on-site and capped with biosolids compost and wood ash. A long-term Operations & Maintenace plan was established to ensure that attractive nuisance issues did not exist.
Photographs courtesy of Dr. Sally Brown, University of Washington.
What is compost?
Compost is organic material produced by aerobic (utilizing oxygen) decomposition of organic materials such as yard trimmings, food scraps, and manures. Mature compost is frequently used as a soil amendment because it is rich in nutrients, stable, and safe to use near water sources.
Composting is used frequently to significantly reduce pathogens in organic waste streams, since the process generates temperatures hot enough to achieve this reduction. Compost availability and composition varies widely, but in general, compost is generated in much smaller volumes nationally than manures or biosolids.
For more information on compost and how to create your own composting pile, please visit the EPA Composting and Organic Materials Management Pages:
What are biosolids?
Biosolids are the nutrient-rich organic materials resulting from the treatment of sewage sludge (the name for the solid, semi-solid or liquid untreated residue generated during the treatment of domestic sewage in a treatment facility). When treated and processed, sewage sludge can be safely recycled and used as a soil amendment. These biosolids can help maintain productive soils and stimulate plant growth in a sustainable fashion. However, only biosolids that meet stringent Federal and state standards can be approved for use as soil amendments. Now, through a Voluntary Environmental Management System developed by the National Biosolids Partnership (NBP), community-friendly practices also will be followed.
EPA provides the public with educational information, based on the best science, about the safe recycling and disposal of biosolids. To access this information, please visit the EPA Office of Wastewater Management Biosolids web page:
Further Information and Resources on Soil Amendments (General)
EPA Resources Related to the Reuse of Industrial Non-hazardous Materials
Sustainable Management of Industrial Non-Hazardous Materials
The beneficial use of industrial non-hazardous secondary materials is a key part of EPA's Sustainable Materials Management (SMM) effort. The appropriate beneficial use of secondary materials can advance the goals of EPA's SMM program, which emphasizes a materials management approach that aims to reduce impacts to human health and the environment associated with materials over their entire life cycle.
Methodology for Evaluating Beneficial Uses of Industrial Non-Hazardous Secondary Materials and the Beneficial Use Compendiums
This document presents EPA's approach for evaluating a wide range of industrial non-hazardous secondary materials and their associated beneficial uses.
Risk Assessment of Spent Foundry Sands in Soil-Related Applications
This risk assessment concluded that the beneficial uses of silica-based spent foundry sands, when used in manufactured soils, soil-less potting media, and roadway subbase, are protective of human health and the environment. Based on this conclusion, and the available environmental and economic benefits, the EPA and US Department of Agriculture (USDA) support the beneficial use of silica-based spent foundry sands specifically from iron, steel and aluminum foundry operations when used in manufactured soils, soil-less potting media and roadway subbase.
Report: EPA Promoted the Use of Coal Ash Products with Incomplete Risk Information
A report from the EPA Office of Inspector General to determine whether EPA followed acceptedd and standard practices in determining that coal combustion residuals (CCRs) are safe for the beneficial uses it had promoted on its Coal Combustion Products Partnership (C2P2) program website.
Further Information and Resources on Biosolids