Green Remediation Core Elements: Land & Ecosystems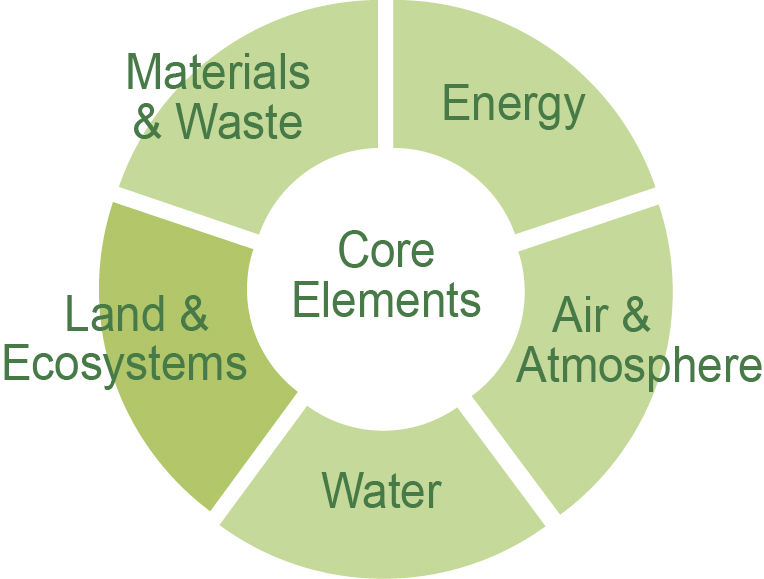 Green remediation strategies addressing land and ecosystem protection and conservation build on federal mandates such as the National Environmental Protection Act and Energy Independence and Security Act. The strategies capitalize on a whole-site approach that accelerates site restoration through nature-based solutions. BMPs focus on opportunities to minimize surface and subsurface disturbance, preserve natural land features, enhance biodiversity, increase wildlife habitat, maintain open space, and sequester atmospheric carbon. Improved environmental outcomes attributable to many of the BMPs include greater capacity to mitigate or adapt to climate change.
Sample BMPs
Limit removal of trees expected to obstruct remedial activities, to preserve ecosystem services such as cooling and shading, aid sequestration of atmospheric carbon, and prevent flooding.
Retain and use downed trees to create habitat snags in onsite streams or forests or to produce wood chips for mulching plants or pedestrian paths.
Restrict machinery, vehicle and worker traffic to well-defined corridors that are minimally obtrusive.
Limit use of artificial lighting that may disturb sensitive animal species.
Replicate the site's original contours during soil grading.
Site-Specific Examples
Tiered engineered wetlands covering 4.5 acres at the Apache Nitrogen Products, Inc. Superfund site in Benson, Arizona, treat groundwater via contaminant degradation mechanisms and a hydraulically-driven groundwater recirculation process, while providing wetland habitat for diverse wildlife such as javelina, Gila monsters and bats.
Approximately 2,700 native trees and shrubs were installed at the 42-acre Solvents Recovery Service of New England, Inc. Superfund site in Southington, Connecticut, to restore onsite biodiversity and wildlife habitat while alleviating flooding along banks of the bordering Quinnipiac River.