Green Remediation Core Elements: Materials & Waste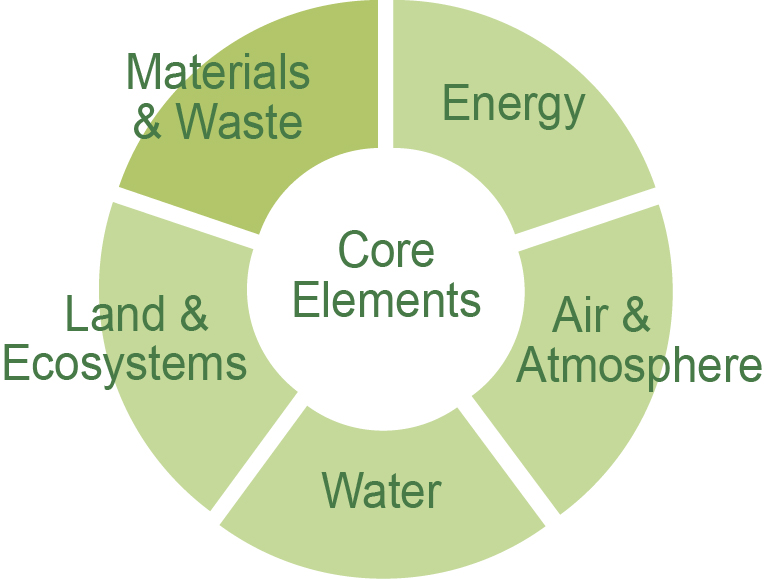 Green remediation strategies addressing material conservation and waste reduction build on federal mandates such as the Resource Conservation and Recovery Act and Solid Waste Disposal Act. The strategies encourage using a sustainable approach to materials management and collaborating with local organizations such as recycling businesses and municipal waste authorities. BMPs focus on opportunities to salvage uncontaminated materials with potential recycle, resale or donation value, choose environmentally preferred products, beneficially use industrial byproducts or waste, and minimize generation of waste.
Sample BMPs
Segregate and stockpile uncontaminated soil that is excavated, for later use as infill or other purposes such as habitat creation.
Use biobased rather than petroleum-based lubricants to operate machinery, vehicles and equipment.
Choose phosphate-free detergents instead of organic solvents or acids to decontaminate equipment not used directly for sample collection.
Choose concrete mixes containing recycled material such as crushed waste glass.
Use filters that can be backwashed rather than disposable filters in water or air treatment processes involving adsorption media.
Site-Specific Examples
An array of energy-efficient and environmentally friendly products was used to construct a groundwater treatment plant for the Lawrence Aviation Industries Superfund site in Port Jefferson Station, New York, based on criteria set by the U.S. Green Building Council's Leadership in Energy and Environmental Design (LEED) program.
Materials used to enhance reductive dechlorination of volatile organic compounds in soil and groundwater at the Camp Lejeune Military Reservation in North Carolina included zero valent iron (a byproduct of steel recycling), organic mulch and 100% food-grade soybean oil.