Solidification/Stabilization
Examples of Site-Specific Use
S/S has been implemented as part of the site remedy at over 300 Superfund sites as well as other cleanup sites across the country (EPA, 2000). This page lists resources on select sites where an S/S remedy has been implemented to give users site-specific examples of where S/S has been deemed appropriate and the results. The resources include project summaries and five-year reviews and are organized by the contaminants of concern found at the site. In addition, a case study of the St. Maries Creosote Superfund site in Idaho, provided below, illustrates why S/S was selected as the remedy, how it was implemented, and the results.
Resources on S/S Remedies
Case Study: St. Maries Creosote Site, St. Maries, Idaho
Figure 1: Site map showing areas of contamination.
From 1939 to 1960, a wood pole preserving company in St. Maries, Idaho, treated poles with creosote, which contaminated upland soil, groundwater, riverbank soil, and sediments within the adjacent St. Joe River with creosote (Figure 1).
In 1998, nearby property owners reported an oily sheen on the river and riverbank. This prompted the removal of 195 tons of impacted debris and creosote-contaminated soil from the riverbank to reduce discharge of creosote to the river. Although not added to the National Priorities List, investigations and cleanup were conducted in accordance with CERCLA. The remedial investigation and feasibility study determined that soil, sediment, and groundwater remained contaminated with creosote and other chemicals of concern1 and posed unacceptable risk to human health and the environment, particularly benthic organisms and bottom-dwelling fish.
Remedy components, approved in the 2007 record of decision (ROD) and later modified in the 2014 Explanation of Significant Differences, included:
Dredging of 17,821 cubic yards of contaminated sediment from the St. Joe River.
Excavation of the top 10 feet of impacted upland soil to be treated ex situ using thermal desorption.
In situ solidification of upland creosote-contaminated soil from 10 feet to 60 feet below ground surface.
Construction of a low-permeability, 60-foot-deep, slurry wall around the solidification area to prevent groundwater from entering the excavation and to reduce the flow of groundwater through the solidified soil.
In situ solidification allowed deep contaminated soil below the water table to be left in place. Remedial action objectives are met by immobilization of contaminants and slurry wall containment. The objectives were to prevent further leaching of contaminants into surrounding soil, groundwater, and the St. Joe River and to prevent exposure to contaminants (human dermal contact and ingestion as well as direct contact by benthic and aquatic organisms).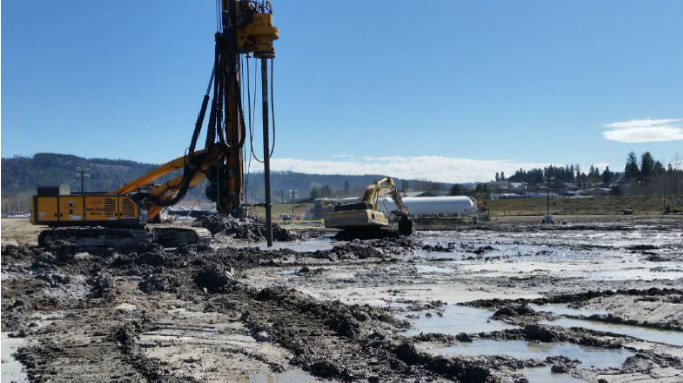 Figure 2: A crane equipped with a large-diameter auger injected and mixed the binder with contaminated soil and groundwater.
In April 2015, construction of the subsurface slurry wall was completed. The upper 10 feet of soil within the walled area was excavated for treatment in an onsite thermal desorption unit. The binder (a mixture of 12% blast furnace slag and 6% Portland cement on a dry soil weight basis) was injected via a large-diameter auger to solidify soil from 10 to 60 feet below ground surface. Thorough mixing was accomplished by moving the auger through the soil column as the binder was injected. The auger was advanced in overlapping columns (Figure 2). In addition, an excavator bucket was used to mix the reagents and soil in specific areas.
During the in situ solidification process, samples of the treated material were collected to measure unconfined compressive strength (psi) and hydraulic conductivity and ensure performance specifications were met. The target strength (minimum 30 psi) was not always achieved within 28 days of curing, so the curing time was extended and remixing occurred, as needed. A total of 37,457 cubic yards of soil was treated. The top of the solidified monolith was graded and covered with fill to drain water away.
Figure 3: Site following restoration (grading & revegetation).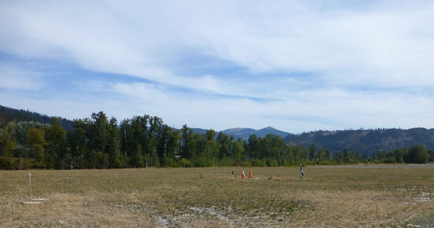 Figure 4: Upland soil area 3 years after S/S treatment.
Following completion of site restoration activities in April 2018, the treated S/S area has been visually inspected regularly to monitor for signs of damage to the soil cover from surface water erosion, wind erosion, flooding, and burrowing as part of a long-term monitoring program (Figures 3 and 4).
To protect the integrity of the in situ solidification remedy and meet ROD requirements, an environmental covenant includes limitations on land use. The City of St. Maries now owns the property and, as of 2021, plans to reuse the site in a manner that will comply with land use restrictions in the covenant.
References:
EPA, 2020.

Superfund Remedy Report, 16th Edition. EPA-542-R-20-001. July.
Case study was adapted from information contained in:
Arcadis, 2018. Final Construction Completion Report, 129 pp.
EPA, 2019. First Five-Year Review Report for St. Maries Creosote Site, Benewah County, Idaho, 48 pp.
EPA, 2018. St. Maries Creosote Site Remediation Summary, 31 pp.
EPA, 2014. Explanation of Significant Differences, 20 pp.
---
Helpful Information
Chemicals of concern: at the site included polycyclic aromatic hydrocarbons, BTEX (benzene, toluene, ethylbenzene, and xylenes), and semi-volatile organic compounds.  ↩

Chemicals of concern: at the site included polycyclic aromatic hydrocarbons, BTEX (benzene, toluene, ethylbenzene, and xylenes), and semi-volatile organic compounds.  ↩